Arts Beacon Fall Art Classes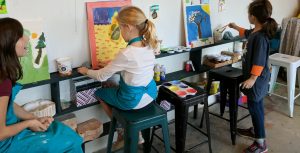 Do you have creative kids who need a creative outlet? Fall Registration is open.
Semester: September 6th – November 23rd.
Semester Breaks: September 25th – 29th and October 10th – 15th.
To find out more details on classes or register please visit our website.
Butterfly Art Group
for ages 7 and up
Mondays 3:15-4:30
Owls Art Group
for ages 9 and up
Wednesdays 2:00-3:15
Kangaroo Parent & Child
for ages 7 and under with parent or guardian
Fridays 11:00-12:00
Teens Art Group
for ages 11 and up
Fridays 5:00-7:00
Kids Clay Class
for ages 5 and up
Saturdays 2:00-3:15
All the group classes will explore drawing, painting, printmaking and sculpting in clay, except for the Kids Clay Class which will just be working in clay!