Atlanta Hawks Lady Ballers Clinic

Join us on October 9th, 2023 for our ALL GIRLS Lady Ballers Clinic on Monday, October 9th, 2023 at Northside Youth Organization (NYO) at Chastain Park. This clinic is open to participants ages 8-14 years old. Participants will develop their basketball skills with the Atlanta Hawks Youth Basketball Development Coaches through on-court skill instruction, competitions and games. 
Lady Ballers Clinic will take place from 9:00am – 11:00am
– Click HERE to Register! (GIRLS)
Participants will receive the following:
On-court instruction
Off-court resources from the Hawks Basketball Academy
T-Shirt, special Atlanta Hawks and Jr. Hawks swag
Premium prizes and giveaways
NOTE: All participants are invited to attend the Atlanta Hawks OPEN PRACTICE on Monday, October 9th, 2023 at State Farm Arena – click the link below for more information.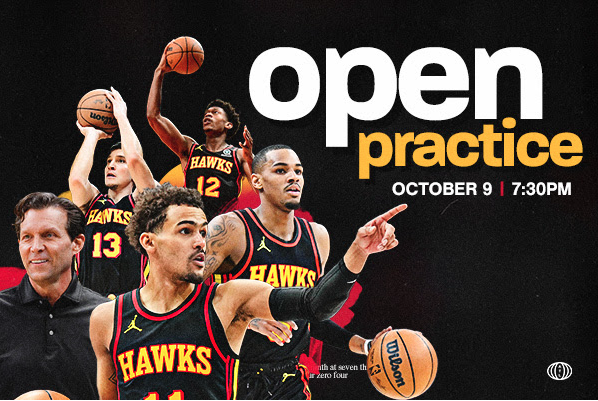 When: October 9 at 7:30 PM, Doors open at 6:30 PM
Where: State Farm Arena
You're invited to the 2023 Hawks Open Practice on October 9th at State Farm Arena!
This is your chance to watch Head Coach Quin Snyder run practice and get a look at the Hawks 2023-24 roster! Get ready for a fun night full of Hawks Entertainment, including appearances from Harry the Hawk and the ATL Dancers.
Tickets are only $5 and all proceeds benefit the Hawks Foundation. Get your tickets today!
Check out our Hawks At Home platform HERE for free basketball skills, drills and challenges that you can do at home!
Sign up for our Lady Ballers Program HERE.
Let's Go Hawks!
Daniel Quintanilla
Coordinator, Community Basketball Programs
Atlanta Hawks & State Farm Arena
101 Marietta Street NW Suite 1900, Atlanta, GA 30303
T: 404-878-3060
daniel.quintanilla@hawks.com