Book Sale Fundraiser for East Atlanta Library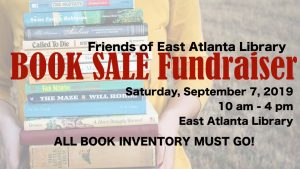 Join us for our final sale of the Friends of East Atlanta Library before the library closes for renovations! We want to clear our inventory and raise money to support our library branch! We have LOTS of books for ALL AGES! Books are $1-$2 and ALL PROCEEDS benefit our East Atlanta Branch! We'll be making deals late in the day too! Come early for best selection.
Donations being accepted through Thursday, September 5, 5:30 pm. See our notes on book donations.
Follow us on Facebook or become a friend and support our local branch. We support programs for youth, teen and adults, supply needed items for the library or staff that is beyond the budget and hosts artist shows and receptions and more. Friends of East Atlanta Library makes all of these things free and accessible to the public.