Creative Writing Youth Summer Camp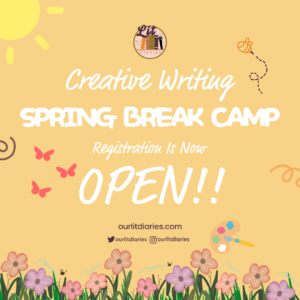 At Lit Diaries, campers spend their days in personal writing workshops led by published authors and screenwriters. Camp days will consist of creative writing workshops and guest speakers who are published or actively creating films, with Fridays dedicated to movie screenings, group reading, and arts and crafts.
Unlike more traditional camps in creative writing, Lit Diaries Creative Writing Camp focuses on using informal, playful, and expressive writing to strengthen language skills and critical thinking while building self-esteem. In these informal writing activities, campers develop more polished pieces, ranging from personal narratives to short stories, poems, short dramatic works, and experiments in creative nonfiction. Each week they will be able to meet best-selling authors and award-winning filmmakers who will share their experiences and success stories.
The camp sections are small (no more than 50 campers). This size allows for individual attention to each student. It helps foster a sense of belonging to a supportive learning community in which students can feel comfortable exploring new directions in their writing and thinking. Trusting one's language and voice, learning to think for oneself, and collaborating with others are the qualities and skills that the camp strives to develop.
This camp is excellent for young creators, children struggling with self-esteem, and children seeking an outlet to express themselves.
Register at https://ourlitdiaries.com/creative-writing-camp/