Dance 411 Kids Company will host Auditions Sunday April 14, Ages 6-18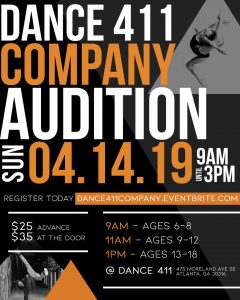 The Dance 411 award-winning competition & performance company has competed (and won) against many of the best dance schools nationwide with show-stopping performances that WOW the judges and crowds! We've also performed on national television commercials, music videos, tours, films and more!
We encourage every eager child & teen dancer aged 5 to 18 to come audition and apply for Dance 411 Company. We have varied performance team program levels, and typically accept those students that demonstrate an ability to grow and learn.
Sunday, April 14, 2019
9:00 am, Ages 6-8yr
11:00 am, Ages 9-12yr
1:00 pm, Ages 13-18yr
Don't miss the Star Systems Dance Competition
Friday, April 26 – 28, 2019
Athens, Georgia