Dance 411 Open House & Winter Break Camp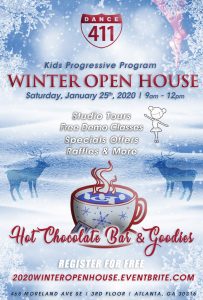 Winter Open House January 25
Come and learn about our prestigious kids dance program at the world-famous Dance 411. Dance 411 is dedicated to providing an environment that is fun, non-intimidating, and energetic! We want our students to explore the beautiful world of dance and love it while doing so. Our focus is not just in perfecting the techniques, but developing the passion and commitment that strengthens the soul of the dancer and opens the doors to creative expression.
Winter Break Camp
Parents, are you looking for something affordable, fun and exciting for your child during the Winter Break Camp? Dance 411 has your solution!
Enroll your children in dance camp with the dance studio voted "Best of Atlanta"! Our dance camps are approved through Georgia's "Bright From The Start" Department of Early Care and Learning.
Camp will run Monday, February 17, 2020. Sessions are daily from 8:00 am to 4:00 pm. Extended Camp is available 8:00 am until 6:00 pm for an additional $12 per day.
Camp is designed for ages 5–13 years old, and camps are broken into different groups based on the volume of students in each age bracket (example 5 – 8, 7-9 and 10 – 13). During camp, sessions feature performance training and workshops in varying dance styles including technique, hip hop, and jazz and a few specialty classes such as Break Dancing and Greek Step.