Dance 411 Spring Break Camp and Team Auditions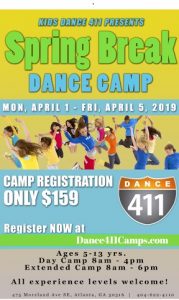 Dance 411 Studios Spring Break Camp
Our fun and unique seasonal day camps for boys and girls ages 5 through 13 are designed to help students enhance their creative abilities and become well-rounded performers. Instruction is based on age and skill level, with beginner to advanced students welcome.
When: April 1-5
Cost: $159
Dance 411 Performance Company presents… 2019 Company Kickoff Showcase
Our third annual Kids Company Kickoff is designed to preview and highlight the creativity, ingenuity and vibrancy of our Dance 411 Kids Company Team as they prepare for 2018 competition year.
When: Sunday, March 10th 2019, Show Starts @ 2:00 pm
Dance 411 Kids Company will host Auditions
The Dance 411 award-winning competition & performance company has competed (and won) against many of the best dance schools nationwide with show-stopping performances that WOW the judges and crowds! We've also performed on national television commercials, music videos, tours, films and more!
We encourage every eager child & teen dancer aged 5 to 18 to come audition and apply for Dance 411 Company. We have varied performance team program levels, and typically accept those students that demonstrate an ability to grow and learn.
Sunday, April 14, 2019
Ages 6-8yr – 9:00 am 
Ages 9-12yr – 11:00 am 
Ages 13-18yr – 1:00 pm