Dance 411 Studios Fall Classes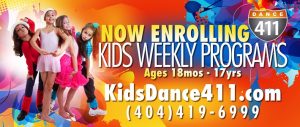 The World Famous Dance 411 offers an array of ongoing classes for your child or teenager ages 3 through 17. We have youth dance "drop-in" class programs, allowing the student to come in as occasionally or frequently as they choose.
We also offer our season-long recital-based "progressive" dance classes with ongoing lesson plans and choreography that builds upon itself each week… finishing with large season-ending dance recitals to show off what the kids learn to friends and family!
Your child or teen will receive the best dance training from true working professionals in the entertainment industry in areas such as ballet, tumbling, jazz, and of course Dance 411's famous claim to fame… the nation's best in hip-hop training! Contact us today for more information about our kids & teens classes!