Dance 411 Thanksgiving Break Camp- November 25th-27th (3-day Camp)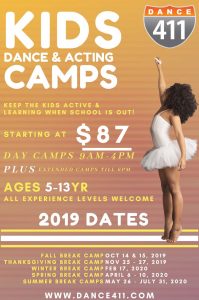 Campers will be immersed in Dance and Theater Programs. Students will learn acting, ballet, hip hop and jazz plus a specialty class to enhance their performance capabilities. At the end of the week of Friday, kids put on a performance for their friends and families. Sessions are daily from 9 am – 4 pm. Extended Care is available until 6 pm. Camp is designed to help students enhance their creative abilities and become well-round performers. Instruction is differentiated based on skill level beginner to advance performers are welcome.
HURRY SPACE FILLS QUICKLY!
Camp starts as low as $19.