End of Year Yard Party at Martin Street Plaza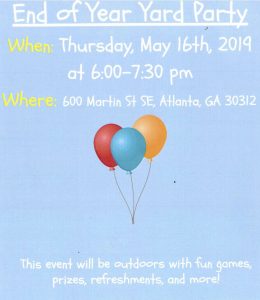 As the official countdown has started to the last day of school, we want to celebrate with our friends at Martin Street Plaza Apartments! ANCS' Diversity and Equity Action Team will host an End of the School Year Yard Party on Thursday, May 16th from 6:00 – 7:30 pm. This event will be outdoors with games, prizes, food, treat bags, etc. In the event it rains, we will be indoors. Come out to have fun engaging in game stations such as hula hoop contest, egg on spoon race, mini-obstacle course, Simon Says, and football toss. Our goal is to host a FUN event and wish our families a safe and wonderful summer break!
If you are interested in volunteering for the event, please contact Carla Wells, the DEAT EC co-chair or ANCS' Equity Support Coordinator, Tilifayea Griffin. We hope to see you there!