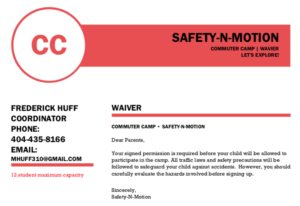 Commuter Camp was an idea started by me and my wife after we realized that our child spent the majority of his time within the familiar confines of our neighborhood and was not familiar with MARTA and other avenues of transportation in the city. It was time to discover independence outside of the carpool lane and chaperoned outings. We wanted him to be able to function without our supervision, have independent experiences, and make wise decisions without our input.
As a parent I have been guilty of pressing the easy button saying, let me just take you there and drop you off so I know you're safe. Decision making is a skill developed over time where both trial and error and hands-on training are equally important. Throughout my professional career as a teen-driving planner for the state, health educator, as member of the child fatality review board with Fulton County Board of Health, state planner for Safe Communities, state motorcycle planner, and Lead Driver for Porsche at the Porsche Experience Center – I have had lots of experience with adolescents coaching them on driving skills and good decision making behind the wheel or on a motorcycle, as well on public transit and as a pedestrian.
Commuter Camp is more than having fun riding bikes and exploring the city. It's about understanding your surroundings and how you can safely navigate through any environment by understanding the law and basic safety rules. The same time a kid learns that it's not a good idea to ride down a hill at full speed in the rain, is the same time that kid reflects on that experience and knows that they cannot take a curve at 95 mph when it was designed for 25 mph – that's the foundation we strive to build at Commuter Camp. When that child gets behind a wheel of a car, he/she is not only pulling from driver's education training, but from practical life lessons and good decision making.