Fall/Winter Extended Tennis Sessions (Monday & Wednesday)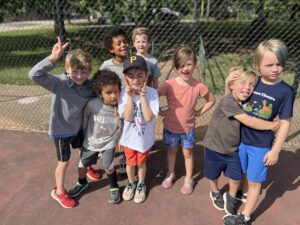 Howdy ANCS Parents! As we finish up another wonderful season with these Fantastic kids, (Monday last lesson 11/6 & Wednesday last lesson 11/1) I want to thank all of you and especially the tennis kiddos for making this fall season such a successful and FUN season! Because so many families have requested continuing programming through the fall/winter and since we have been blessed with such warm/dry weather, we have decided to continue our progression with the kids by extending our season by offering an additional four week mini-session beginning Mondays 11/13 and Wednesdays 11/8 (this week Wednesday).
We will again be picking up ANCS kids at our usual time on both Monday/Wednesday afternoons and escorting them to Phoenix Park but will be shortening the lesson time to a 90 minutes session. Any of those children attending different schools can be dropped at the courts for programing from 3:30-5:00PM on either or both days.
Cost for the full four week mini session is $145 and you can submit a registration following this link:  https://puretennis.net/information/registration_payment/#junior
Payment links: https://puretennis.net/information/payment_only/
Please let me know if you have any questions?
Thanks,
Coach Tony
tonyfarnum@puretennis.net