Free Year-long STEM Program for Boys in Grades 6-8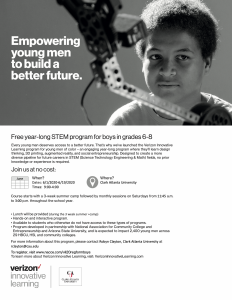 Designed to create a more diverse pipeline for future careers in STEM (Science Technology Engineering & Math) fields, no prior knowledge or experience is required to participate in the Verizon Innovative Learning program for young men of color – an engaging year-long program where they'll learn design thinking, 3D printing, augmented reality, and social entrepreneurship. Every young man deserves access to a better future.
Lunch will be provided during the 3 week summer camp.
Hands-on and interactive program.
Available to students who otherwise do not have access to these types of programs.
Program developed in partnership with National Association for Community College and Entrepreneurship and Arizona State University, and is expected to impact 2,400 young men across 29 HBCU, HSI, and community colleges.
For more information about this program, please contact Robyn Clayton.
To register.
To learn more about Verizon Innovative Learning.
Where: Clark Atlanta University
When:
Dates: 6/1/2020-6/19/2020
Times: 9:00 am – 4:00 pm
Join us at no cost: Free year-long STEM program for boys in grades 6-8