Grant Park Baseball Registration is Now Open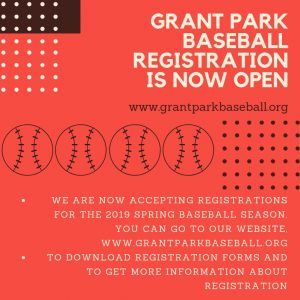 We are now accepting registrations for the 2019 spring baseball season. You can go to our website to download registration forms and to get more information about registration. Please make sure you register early — particularly if you are interested in coach pitch. We have had to turn away registrants for several years running, so do not wait.
The registration fee is $90.00 per child through February 10, 2019. On and after February 11, 2019, a $25.00 late fee will be assessed (for a total registration fee of $115.00). We need people to sign up as early as possible so we can set teams in time for the start of the season.
If you were a head coach or co-coached with someone last year, please let me know as soon as possible if you are or are not available to head coach or co-coach again this year. We are looking forward to another great season.
Thanks!
Mark Phillips
League Director