Kids Dance 411 Open House This Saturday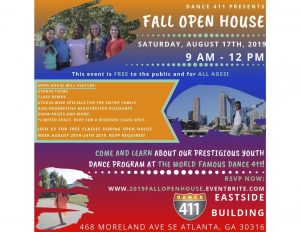 2019 Dance 411 Fall Open House
August 17th, 2019 (9 am – 12 pm)
Progressive Open House Week
August 20th – 24th 2019
What does Dance 411 have to offer? Come find out at this FREE event open to the public. Learn about all of our programs in one day: Kids Dance (Camps, Progressive and Company)
Youth and Adult Dance Demos begin at 9 am on August 17th, 2019
This event is FREE to the public and for ALL AGES.
This year's event will feature:
FREE Kid Dance Demos
Studio Tours
Class Demos
Studio-Wide Membership Specials
Kids Progressive Registration Discount
Door Prizes and More!
*Limited space.