Look for a Teal Pumpkin this Halloween!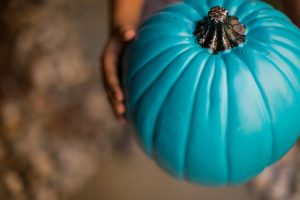 Did you know that 1 in 13 kids in the US has a severe food allergy? That's nearly 2 per classroom at ANCS on average. Halloween can be a tricky time for these kids and that's why the Teal Pumpkin Project was started…to help make Halloween inclusive for ALL kids.
If you see a teal pumpkin displayed on someone's porch, that's a signal to tell you that the treats being given out at that house are allergen friendly. So whether you have a child with a severe food allergy or you are a friend to a child with an allergy, please help keep everyone safe this Halloween by looking for Teal pumpkins.
If you have a child with severe food allergies, here are some simple tips for staying safe on Halloween provided by Food Allergy Research & Education (FARE):
Enforce a "no eating while trick-or-treating" rule, so that you have time to review all food labels.
Avoid candy and treats that do not have an ingredient label.
Always have an epinephrine auto-injector available, if prescribed.
Keep in mind that the mini-size, fun-size, or bite-size version of candy may contain different ingredients than their full-size counterparts. Make no assumptions, and read all labels carefully.
Keep the emphasis on the fun, rather than the candy.
Remember that a candy that has been safe for your child in the past may now have different ingredients. Read the label every time.
You can find out more about the Teal Pumpkin Project here.
Have a Happy and Safe Halloween!