New After School and Summer Art Camp ITP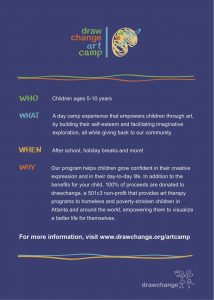 Your child will grow confident in their creative expression and in their day-to-day life all while giving back to the community! All proceeds will be donated to drawchange, a nonprofit organization that provides art therapy-based programs to homeless children in Atlanta and around the world.
​
All camp sessions will be led by our trusted Art Teachers and all projects are planned around our core competencies: Imagination, Collaboration, Empowerment, Dream-Building, Self-Esteem, Creation and Stress Relief.
AFTER SCHOOL CAMP:
Monday-Thursday year round, 3:00 – 6:00 pm
SUMMER CAMP:
Weeks of: June 17, June 24, July 8, July 15
9:00 am – 4:00 pm (after care available until 5:30 with small fee)