November 9 @ 7pm | Mom's Night Out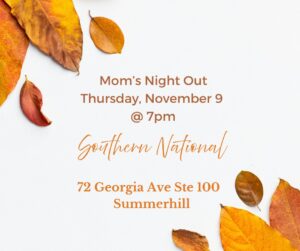 Ladies, it's that time again!
This month, we're elevating our evening by indulging at the all-new Southern National located in the heart of Summerhill.
If you thought our October gathering was great, well, calling it "EPIC" is just an understatement. The energy, the shared moments, and the connections we made were truly memorable.
This month, prioritize yourself. Do something solely for you and mark your calendars for a night of fun, delicious food, and fabulous company.
Come ready to share your laughter, tales from the home front, and of course, your appetite!
We can't wait to see you there. Cheers to another unforgettable night! 🥂🍴🎉