Shoe Drive for Maynard Jackson High School PTSA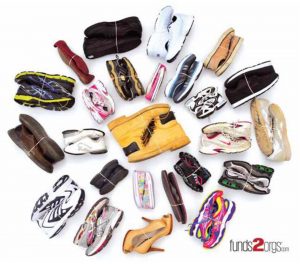 The MJHS PTSA is doing a Shoe Drive and will be paid by the pound for the shoes we collect. These shoes will go to developing nations and micro-entrepreneurs, in countries like Haiti, in order to help them out of poverty.
ACCEPTED SHOES: any type or size – sneakers, dress shoes, boots, flip flops, sandals and sports shoes. All shoes should be in GOOD to NEW condition…no holes, soles must be intact, etc. If you wouldn't give them to a friend then they shouldn't be donated.
HOW TO DONATE: please tie laces together or rubber band together shoes with no laces. Drop box is located in the main office at MJHS. You can also give them to a MJHS family to take into the school for you.