Spring 2023 Pure Tennis After-School Program Starting Soon!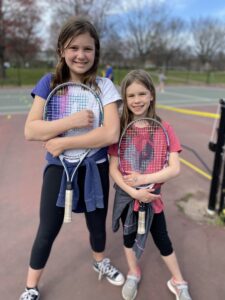 Registration is NOW OPEN for our Spring 2023 JR. Development AFTER-SCHOOL Tennis Program continuing the week of March 1st which will include another FUN-tastic eight week session of junior tennis offered on both Monday and Wednesday afternoons. We are now offering flexible registration options for those families that would like for our instructors to organize a pick-up directly at ANCS elementary (After-School Enrichment through ANCS administration) on both Monday and Wednesdays for a 120 minute session or the standard 60 minute session. Both options are well suited for students in grades 1-4.
Our Junior Development Tennis Programs are designed to stimulate and challenge children of all levels, age groups and abilities. Our future Champions will learn more than how to hit a tennis ball, they will learn how to have fun playing the game of tennis.
Our professionals use drills, games, and instructional teaching aids so children will learn simple tasks, then move onto more challenging exercises. Every segment quickly builds confidence, focus and consistency. Junior players will also work on physical conditioning to include proper warm-ups, stretching, footwork, balance, strength and endurance.
Our Junior Development Programs (ages 4-12) are centered on the theory of graduated length instruction and progressions employed by most sports. Racquets, nets, tennis courts and even balls are modified to the appropriate sizes for maximum control and comfort. This accelerates the learning process and produces lasting results in the child's stroke development and focus. With experience and age, kids then graduate to regulation size courts and equipment.
Returning students and advanced players will concentrate on match simulation drills and strategy for both singles and doubles play. Physical conditioning for enhanced speed, balance and power will also be implemented this season. Our teaching staff is trained under the USPTA guidelines.
More Information: https://puretennis.net/locations/grant-park-surrounding-communities/
Registration link: https://puretennis.net/information/registration_payment/#junior
As always please feel free to contact me directly with any questions?
Cheers,
Coach Tony