Stroller Walk for Moms in Grant Park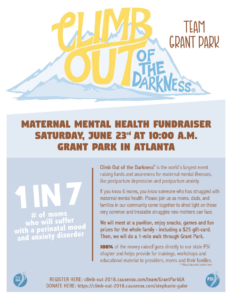 Climb Out of the Darkness is a community walk and international fundraiser for survivors, providers, and members of the community to come together. Raising awareness for perinatal mood and anxiety disorders, The Climb brings people together all over the globe near the solstice (the longest, brightest day) to shine a light on a darkness we often don't speak about. We share stories of hope and celebrate recovery as we gather together to raise money, raise awareness and give a voice to those who no longer have one and walk together to symbolize our 'Climb' Out of the Darkness.
PSI provides direct support to families, trains professionals, and is the bridge to link the two. Through its warm-line volunteers, online support groups, Facebook facilitators, and local support coordinators, PSI provides hope and resources to families at no charge. We work together to strengthen the safety net for pregnant, postpartum, and post-loss families every day. There are PSI Support Coordinators in every US state and in about 40 other countries. You can find all of the local PSI coordinators on the online support map. And check out the Georgia Chapter of PSI.
Join the Grant Park team here. *Free to participate but you must register