Two-Day Theatre Camp in Grant Park (November Break)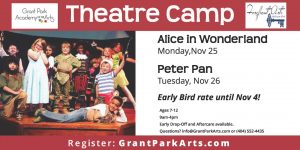 Classic Stories come to life onstage with Forefront Arts Children's Theatre and Grant Park Academy of the Arts!
Monday, Nov 25
"Alice in Wonderland"
Tuesday, Nov 26
"Peter Pan"
Each day students (ages 7-12) will learn physical and vocal warmups, play drama games, work on an art project, and rehearse portions of a classic story which they'll perform at 3:45 pm! Performances will also be shared privately online for parents who cannot attend the live performances.
Families may choose to register for only Monday or only Tuesday, but will receive discounts for choosing both days. You may also register for Early Drop-off and Aftercare provided by Grant Park Academy of the Arts staff.
EARLY BIRD RATE till November 4th!