Whitefoord Health Clinic at King Middle School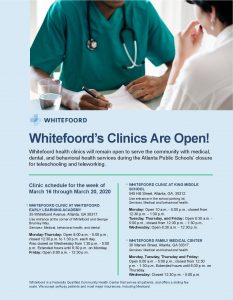 Whitefoord is a Federally Qualified Community Health Center that serves all patients on a sliding fee scale. They accept self-pay patients and most major insurances, including Medicaid. Their location at King Middle School, 545 Hill Street, Atlanta, GA 30312, will remain open to serve the community with medical and behavioral health services during the closure. Use the entrance in the school parking lot. The appointment line is (404) 373-6614.
Below is the most recent clinic schedule.
Monday: 10:00 am – 5:00 pm; closed from 12:30 pm – 1:30 pm
Open Tuesday, Thursday, and Friday: 8:30 am – 5:00 pm; closed from 12:30 pm – 1:30 pm
Open Wednesday: 8:30 am – 12:30 pm