Y City League Sports/Basketball Camp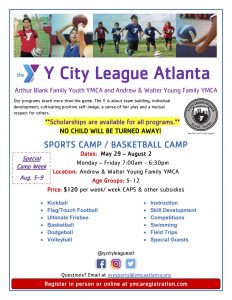 Summer's sun calls for summer fun! Join the Y City League Atlanta Sports Camp, where we have the most fun! Registration is now available. The summer camp is specialized for sport lovers and enthusiasts.
It will run for nine weeks and are open to children ages 5-12. The Y City League Atlanta, merging the sports programs of the Arthur Blank Family Youth YMCA and the Andrew and Walter Young Family YMCA, is designed for the communities that we serve as a developmental, competitive and fun league for the youth. The league emphasizes health, psychological and social benefits, in addition to skill and character development.
Dates: May 29 – August 2
Camp Hours: Monday – Friday, 7:00am – 6:30pm
Location: Andrew & Walter Young Family YMCA
Age Groups: 5-12 years of age
Price: $120 per week (CAPS & other subsidies)