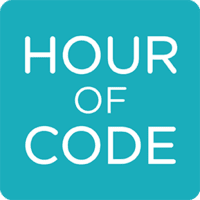 The Hour of Code started as a one-hour introduction to computer science, designed to demystify "code", to show that anybody can learn the basics, and to broaden participation in the field of computer science. Since then, Hour of Code has quickly become the largest learning event in history. It is a global movement with more than 100 million learners in 180 countries. The Hour of Code takes place each year during Computer Science Education Week. Computer Science Education Week is held annually in recognition of the birthday of computing pioneer Admiral Grace Murray Hopper (December 9, 1906).
When: December 9-15
Where: Worldwide
Every student should have the opportunity to learn computer science. It helps nurture problem-solving skills, logic and creativity. By starting early, students will have a foundation for success in any 21st-century career path.
Source: code.org
For more about CS and Coding, plus a list of coding activities that you can do anytime, please check out this site!
Questions? Reach out to Makisha Rogers, ANCS Instructional Technology Specialist.