Parents Day Out – Registration Closes Friday!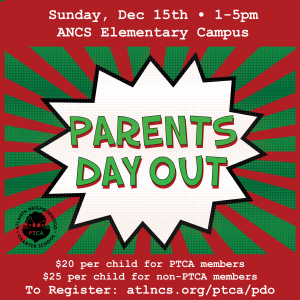 Parents Day Out is this Sunday from 1-5 at the Elementary Campus. That means a few hours off for you and tons of fun for the kids. Kids will enjoy outdoor playtime, indoor games, making winter care kits for the homeless and holiday cards for seniors. Plus, we'll have a showing of the movie Elf!
Spots are limited and registration will close this Friday, December 13, so be sure to secure your spot now! Cost is $20 per child for PTCA Members and $25 per child for non-PTCA Members.