Academic Growth After Virtual and Hybrid Learning
---
H.O.W.L.* Y'all Doin'?
A look at academic growth after virtual and hybrid learning
Our recent discussion of next year's daily schedule brought up questions on how our students are faring on the heels of an extended period of virtual and hybrid learning. This installment is meant to answer some of those questions, and provide an overview of trends we are seeing in student data, and what we are doing to address them. There are three important notes to consider, each of which is explained in more detail below:
Overall, virtual learning had less of a negative impact on our students' academic attainment than many of us expected.
At our school, an important driver of sustained academic growth is differentiation in the classroom.
We also have a robust built-in student support system that helps meet our learners' academic needs.
Overall, virtual learning had less of a negative impact on our students' academic attainment than many of us expected.
As we approached the end of the 2020-2021 school year it was thought that we might see a major drop-off in academic growth. Classes were completely remote for all students (with the exception of some in-person supplemental learning sessions for a targeted group of students) up until February when we started our cohort hybrid platform. And 2019-2020 had been interrupted by a sudden shift to virtual learning the last 10 weeks of the school year. The spring 2021 Measure of Academic Progress (MAP) test results were one of the first indications that the anticipated reduction in academic attainment was somewhat less than what some may have imagined at our school.
What we saw was that students' performance in many cases compared relatively well to previous uninterrupted years – faculty and staff had figured out ways to adapt our curriculum to the virtual/hybrid environment, and parents/caregivers again proved to be reliable partners as their students were learning from home.
The charts below plot the average MAP scores for each grade level from 2015 through 2021. The year in black was during the year of virtual and hybrid learning. The year in light blue are from this year and represent our most recent test scores available.
Winter MAP Reading Scores: 2015 – 2021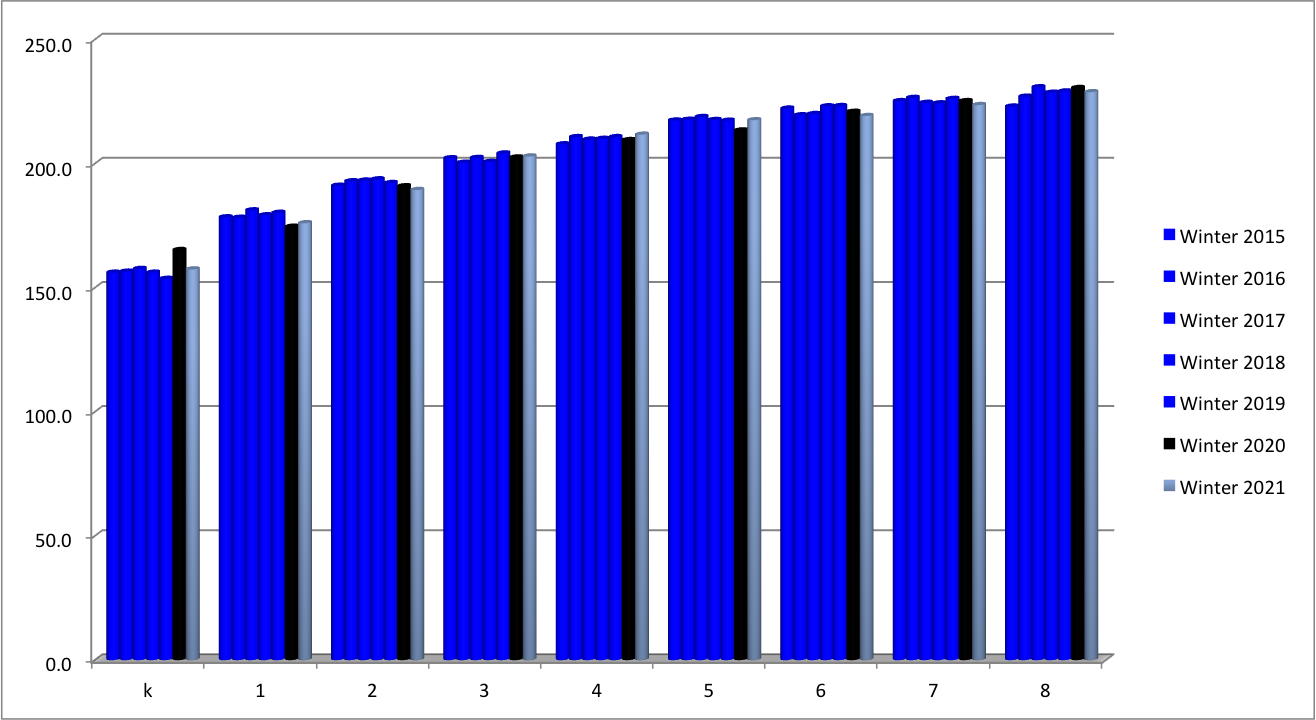 Winter MAP Math Scores: 2015 – 2021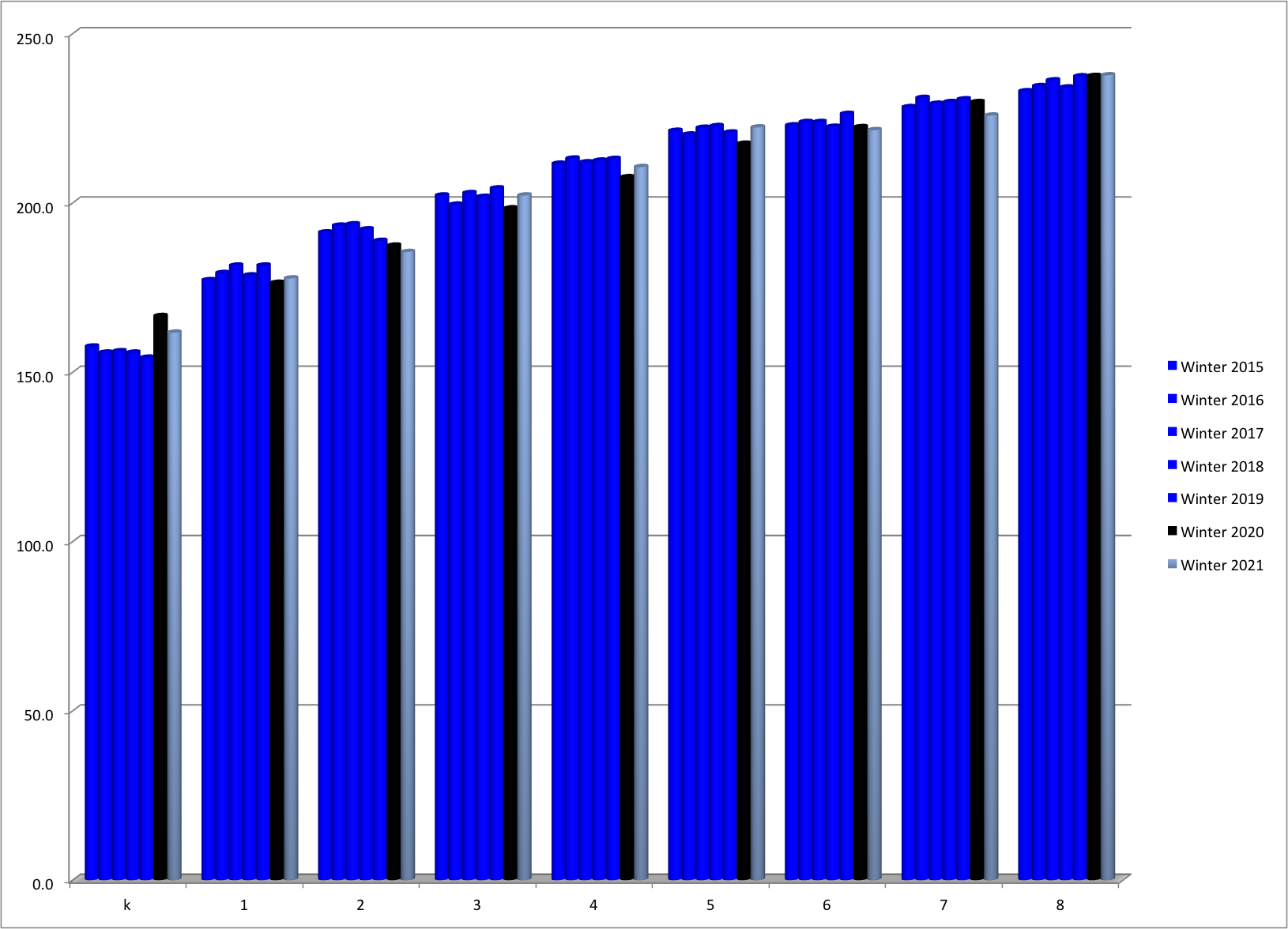 What we also noticed, however, was that there were specific groups of students who struggled in certain areas, and that our achievement gap grew somewhat wider. Given this, we focused on a set of targeted supports and interventions that were tailored for specifically identified needs. We saw no reason to alter our general approach to teaching and learning – the Neighborhood Way had served us well – but there were groups of learners who clearly needed additional support. We issued a detailed plan – approved by the district – on just how to deliver that support.
Meanwhile, we restructured the daily schedule based in part on some of the things we learned during the shortened virtual learning day. We shortened the length of middle campus classes to 55-minutes – giving teachers enough instruction time to deliver daily content before their students' attention span begins to wane. It also opened the door for office hours at the middle campus, providing students with access to all teachers for questions, follow-up and support for one hour after school. At the elementary campus, the current schedule allows students to go directly to their classrooms with their teachers as early as 7:30am Tuesday – Friday, and elementary grade teachers have 45 minutes of contract time (compared to 15) at the end of each day for parent communication and classroom preparation. The decision on the schedule – ratified by the board in June of 2021 – represented a balance of intelligent use of instructional time for students and a deliberate step to better align employees' work hours to their employment agreements.
At our school, an important driver of sustained academic growth is differentiation in the classroom.
Differentiated instruction is an approach that supports and adapts to all students' learning needs. The students have the same goals, but the instruction varies based on students' interests, preferences, strengths, and struggles. Our educators are evaluated in part based on how successfully they deliver differentiated instruction in their classrooms. Frequent assessments are an important part of differentiated instruction – teachers use a variety of methods to routinely check for understanding and gauge how well students are grasping the content. Students are very often working in small groups that are formed and changed with specific goals in mind. When done well, students at any point along the academic performance spectrum get the differentiation they need from their teachers to maximize their growth and development on a daily basis.
There are two important features that support the success in differentiated instruction: A low student to teacher ratio, and adequate time for teachers to analyze student data and plan their lessons.
Low student to teacher ratio
As you know, almost all of our classrooms are served by teaching partnerships: There are two teachers in almost every class. We have also deliberately kept our class sizes comparatively small – 16 students per class in kindergarten, 22 students per class in first through fifth grades, and 26 students per class in grades six through eight. This helps make tailoring instruction more manageable. Students can be placed into small groups more easily, and the two teachers can focus more specifically on differentiation.
Teacher planning time
Differentiated instruction is a departure from the model of recycled lesson plans or a rinse-and-repeat approach to teaching year in and year out. To deliver differentiated instruction with fidelity, teachers must develop lessons that are specific to their students' needs and interests, which can vary widely from week to week. Our educators need time to work with their teaching partners, design lessons, and collaborate with the other instructors teaching the same grade level or subject area. Without this time, their ability to proactively address the needs of their students or react to the shifts and changes in learners' growth patterns is severely limited. We recognize this as a best practice – one that is also in place at several other charter and independent schools in our area.
We also have a robust built-in student support system that helps meet our learners' academic needs.
Our faculty is organized to provide a variety of support beyond core, standards-based – or first tier – instruction. This multi-tiered system of support (MTSS) is a critical component of our approach to education. We have an early intervention program for each of our elementary grades, staffed by three teachers with a combined 27 years of experience. Those teachers provide extra support to address students' struggles in particular areas. Our Learning Lab at the elementary campus does the same for students with individualized education plans (IEPs). Our Power 30 program – a math-centric academic growth period – was developed to respond to specific struggles we noticed in last year's student data.
We also have a full-time K-8 MTSS Coordinator – Lindy Settevendemie. Lindy recently returned to Neighborhood Charter after a stint at Emory, and is responsible for assessing and meeting students' needs that extend beyond general instruction and the core curriculum and recommending approaches and tactics to ensure highest levels of academic attainment for students at all achievement levels. Lindy works under the supervision of Rhiannen Laurent – our Dean of Academic Growth.
*H.O.W.L. stands for Home/Offsite Wolves Learning, and refers to the phases during which we reverted to virtual or hybrid (a blend of in-person and virtual) learning.
Chuck Meadows
Executive Director