Meet the New Middle Campus Assistant Principal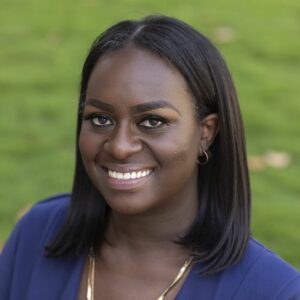 Greetings ANCS Wolf Family!
It is with a spirit of great enthusiasm and excitement that I give a hearty hello to our ANCS School Family at large. There are few words to describe the joy I feel at the thought of learning, caring, and growing with each and every one of our ANCS students. I look forward to working alongside Mark Sanders and the staff at the MC to continue to build on the great foundation of diversity, equity, inclusivity, and academic excellence laid by Lara Zelski and team at the Elementary Campus!
Prior to joining the family at ANCS, I have served in the field of education for 15 years in various capacities including Middle School and High School ELA teacher, Implementation Specialist, Instructional Coach, and Assistant Principal. I enjoy the challenge of working with students, parents, and staff to improve educational and socio-emotional outcomes for students.
On a more personal note, I am currently engaged to be married in November and am the mother and bonus mom to 5 young people, including a son in the Armed Forces and a 2nd grader who will be joining the ANCS family this year. I also have two adorable fur babies, Teddy and Cinnamon!
I am committed to the Mission of ANCS and continuing the work of "helping students learn to use their minds well." I look forward to meeting all of our Wolf Pack Families this year!
"Unity is strength…when there is teamwork and collaboration, wonderful things can be achieved."  Mattie J.T. Stepanek
Howling Toward Greatness,
NaTasha M. Woody, Ed.D.