Music Lessons, Middle Campus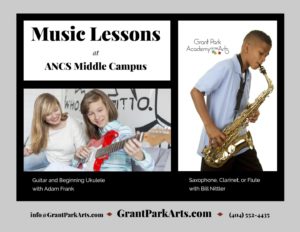 Private music lessons are now available at ANCS Middle Campus after school on Wednesdays, Thursdays and Fridays. Saxophone, guitar, clarinet, flute, and beginning ukulele lessons are provided by Grant Park Academy of the Arts. Our teachers, Bill Nittler and Adam Frank, are experienced music educators and performers.
To ask questions or to schedule a consultation lesson, please email us.