Parent's Morning Coffee and Conversation This Friday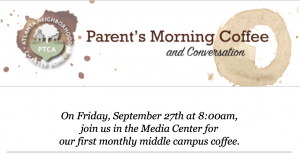 On Friday, September 27th at 8:00 am, join us in the Media Center for our first monthly middle campus coffee. At this Friday's coffee, Nancy Lamb will present on the Measure of Academic Progress (MAP) testing, help parents understand their child's scores and demonstrate how teachers use this date to tailor instruction. You will have the opportunity to answer some MAP questions to better understand how your child is being assessed.
Nancy Lamb is the ANCS School Psychologist for all grades. She is embarking on her 5th year as a member of the ANCS School Family. One of her roles is to support the administration and interpretation of the MAP. This measure is given 3 times a year to explore a student's overall academic growth in the areas of reading and math.
Coffee and treats baked by Chef David will be available beginning at 8:00am, with the program beginning at 8:30am. We will end sometime between 9:00am and 9:15am. It's a casual coffee, so feel free to leave any time if you need to get to work.