The Backyard at the Middle Campus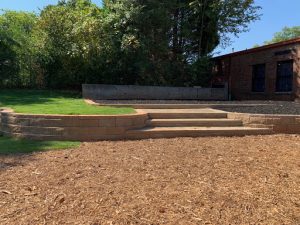 At the end of last year we began a visioning process with the help of Park Pride, a local organization that supports parks, to improve the Middle Campus recess field space. That process continued over the summer, and will continue into this school year.
The major work over the summer was to improve water drainage and erosion on the field, which was a major issue noted by the students. As such, there is now a more comprehensive drainage system below the surface, to help puddling on the field as well as erosion. A retaining wall has also been built, which in addition to shoring up the hillside, provides extensive seating options. We have also covered surfaces in sod and mulch to help with the mud being tracked into the school. Boulders were brought in for seating under the shade tree, trash cans were purchased and placed outside, a storage shed for sports equipment was installed and the basketball court was restriped. While many of the changes happened below the surface, the groundwork has now been laid to move forward on more visible features. A huge thank you to our building and grounds department for jumping on board with this project.
Opportunities for Input:
Next Steps: Once we have gathered input from stakeholders, we will establish a master plan. This will include both the design, as well as the phases in which the work will be completed. Some of those phases will happen throughout this school year.
Opportunities for Sponsorship: if you are interested in supporting this project financially, there will be opportunities to do so.