Get Your Bingo Night Tickets!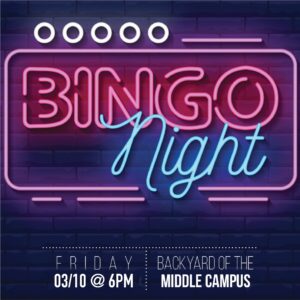 Bingo tickets are now on sale! Purchase your tickets here: https://ancs-ptca.square.site/bingo-night
The Annual PTCA Backyard Bingo will be held outdoors at the Middle Campus from 6:00 pm to 8:00 pm on Friday, March 10. Doors will open at 6:00 pm and the first game will be at 6:30 pm. This is a fun family event where you can win great prizes. There will be tables and chairs, but also feel free to bring blankets.  
Ticket sales will run through Monday, March 6, at 6 p.m.  Tickets will be $5 per person for admission and that includes 1 Bingo card for each round.
Pizza packages are on sale for $20 each.  Each pizza package includes one large pizza (pepperoni or cheese) and four drinks which you can choose at the event.  All pizza must be pre-ordered.  Concessions and extra Bingo cards will be on sale at the event and for pre-order.  Each concession ticket is $3.
Additional cards will be on sale at the event, but there will be no ticket sales at the event.  If you don't buy a ticket before Monday, March 6 at 6 p.m., you will miss out.  You will be able to pick up your Bingo cards at the event, and also during dropoff/pickup at the Elementary campus prior to the event.  
Daubers are on sale for $3 a piece.  Daubers are a fun way to mark off your Bingo card, but you may also use a pen or crayon.  
We need volunteers to help everything run smoothly! This is a great opportunity for Middle Schoolers that need service hours. Please sign up to volunteer here: https://www.signupgenius.com/go/5080b4cafac2aabfd0-2022#/ 
Any questions: Contact Amanda Evans and amanda@evansandwhite.com