Building a Special Needs Community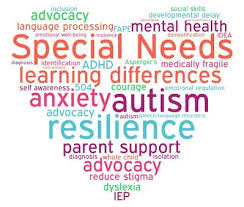 Dear ANCS Community,
My name is Andrea, and I am the mother of a special needs daughter who is a 1st grader at ANCS. I am also an Occupational Therapist by training. As a member of the PTCA Board this year, I am leading an effort to bring the ANCS school family together
to share, support, and advocate for the interests of the special needs and disability
community.
I want to invite all those interested to a social gathering hosted by the PTCA, where we
can meet, share, support each other, and brainstorm what we would like this community
to be and what kind of events would support our interests and help us in our everyday
tasks. This is not solely intended for parents with a child on an IEP (individualized
education plan) or 504; it could also be helpful for parents who notice their child having
learning differences or challenges. Some of us have been in this "world" for a long time,
and some are brand-new and are still digesting this shifted reality. Everything is less
overwhelming when we support each other.
Please let me know if you are interested in attending our first gathering by sending me
your name, phone number, and email address: AMerrill-Smidt@atlncs.org. The date
and location of the social gathering will depend on how many are interested.
Thank you!
Andrea Merrill-Smidt
2022-2023 PTCA Board
Member-at-Large