PTCA Co-Presidents' End-of-Year Letter
What a year it has been! It's hard to believe it's the last week of school. This was the first year the PTCA has been fully operational and face-to-face since 2019! Before you head off for the summer, we want to share some highlights and thank those who made it possible. 
In the fall, we enjoyed signature events such as the Ice Cream Social, Kickball tournament, and Fall Festival with special programming for grandparents and special friends. In the spring, we hosted a successful Bingo Night in the Middle Campus backyard and saw Run with the Wolves reach its highest-to-date participation record with close to 600 registrations! Plus, we enjoyed monthly Third Friday Coffees at the Elementary Campus, two school-wide PTCA meetings, and a Family Picnic earlier this month with over 200 attendees.
The Diversity and Equity Action Team (DEAT), which merged with the PTCA this year, hosted two "Food, Farm & Culture" events at the Elementary Campus farm and introduced new programming at the Middle Campus with "An Evening with DEAT," focused on Black excellence within our school community and beyond. 
At many of these events, we set up the school store, which also enjoyed robust online sales, selling over $4,700 in merch this year! Our grants program awarded over $5,000 to fund special projects for the ANCS school community, including the Lunar New Year celebration at the EC and new pickleball courts and supplies to create a pickleball after-school club at the MC. 
In addition, the PTCA oversaw an incredible group of 20 room parents at the EC and also coordinated special efforts to appreciate our wonderful faculty & staff with gifts and food at both campuses throughout the year. Finally, be sure to ask your child to show you the hot-off-the-press 2022-2023 "Oak Leaves" yearbook, which is designed and published by the PTCA. 
These efforts, and several more we don't have space to mention, are made possible with the help of many volunteers in various roles. Special thanks to the PTCA Executive Committee and our event and committee chairs for their leadership and diligent work throughout the year. We also want to thank the amazing members of our faculty and staff who dedicated their time and efforts to these events and activities, working extra hours behind the scenes without us even knowing. And a BIG thank you to all the parents/guardians, community members, and sponsors who signed up for a shift on Sign-up Genius, participated in an event or committee, and donated their time, talents, and treasure to help strengthen the ANCS community. We quite literally could not have done it without you!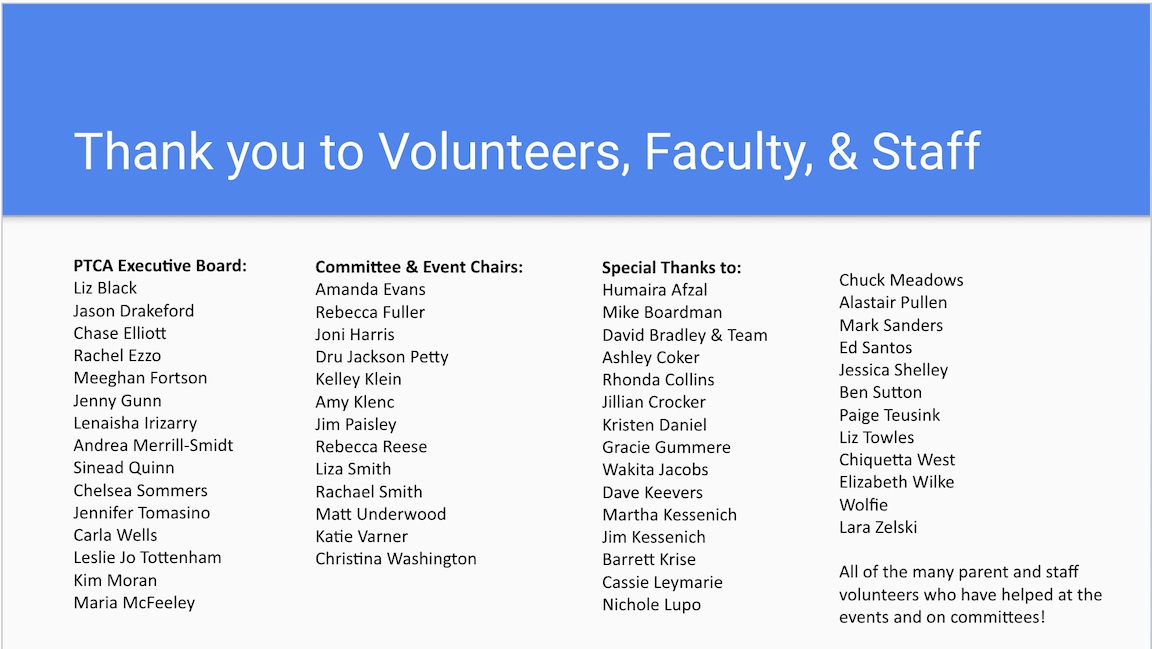 As Governing Board Chair Rhonda Collins announced in last week's Courier, the structure of the PTCA is under review during the 2023-24 school year by a special task force made up of parents/guardians, faculty, staff, and board members. Next year, instead of electing a slate of officers, PTCA events and activities will be managed by DE&I Co-Director Cassie Leymarie. A calendar of regular PTCA events and a PTCA budget have been approved for next year, and many of our volunteers plan to return to support these efforts under Cassie's leadership. We encourage everyone to consider volunteering for an event or activity next year.
Although the structure of the PTCA may change in the future, our hope is that a strong community of parent-led volunteers will continue the important work of building community across both campuses, supporting our wonderful faculty and staff, and helping to make ANCS the special place it is for our students. It has been an honor serving the ANCS community this year, and we wish you all a restful, safe, and enjoyable summer.  
Go Wolves! 
Meeghan Fortson and Jenny Gunn
2022-23 PTCA Co-Presidents
| | | |
| --- | --- | --- |
| |   | |
| Meeghan Fortson |   | Jenny Gunn |