A Fun Night of Food, Farm, and Culture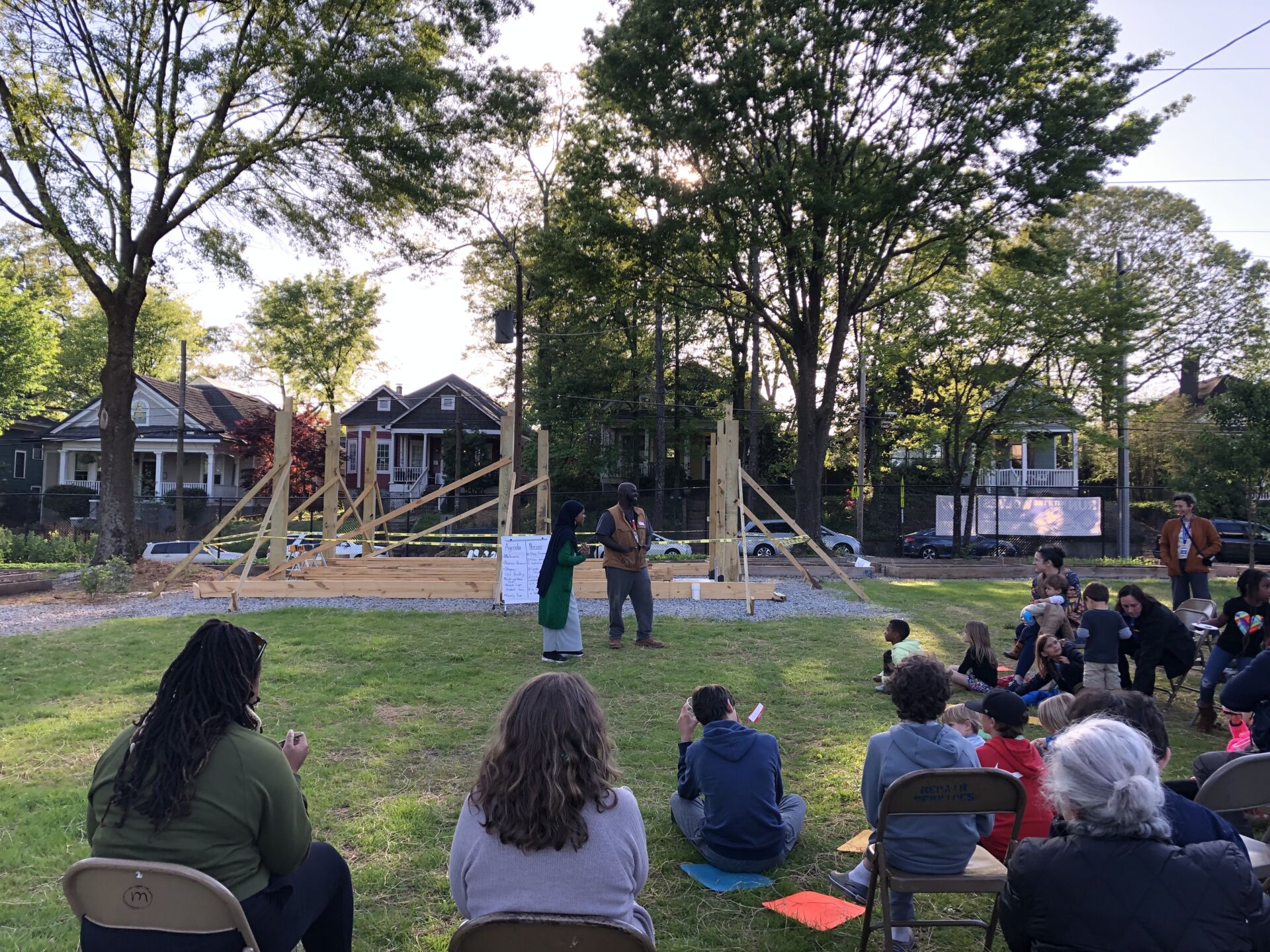 The school farm at the Elementary Campus was abuzz with students, families, and community last night during the Food, Farm, and Culture event co-sponsored by DEAT (Diversity Equity Action Team) and the PTCA. Gathering together to share, learn, and discuss, while enjoying delicious food on our beautiful farm, was a welcome return to in-person connection. Our outstanding school nutrition team served hors d'oeuvres using farm produce harvested this week–kale chips, focaccia bread with spring onions, curried cabbage and sweet potatoes, cookies, and bissap (hibiscus punch). Chef Bradley shared about the many ways he and his team create meaningful opportunities for learning about and experiencing the food of many cultures, all while supporting local farmers and providing nourishment for our students.
School farmers Micole and Musa Hasan spoke of their passion for farming, for caring for Earth and humans alike, and the importance of kids getting to work in nature growing food and observing the cycles all around us. School Farm Specialist Nichole Lupo highlighted the connections we have to each other–across identity, culture, and geography–through the foods we grow and eat. She also acknowledged the importance of sharing hard truths about how we came to know and grow these foods in the American South; it was the wisdom and brilliance of Native Americans and enslaved Africans that taught us how to survive and thrive on this land we call home. First grade teacher Chris Kellum called attention to the invisible step that is being made visible to our students–the step from seed to plate. She shared that her excitement for and deep commitment to our work on the school farm is a way to honor her ancestors that helped build the culture we know and enjoy today.
Without a doubt, the highlight of the evening was the students that reflected on and shared their beliefs around why it's important to grow food at school. Their thoughtful comments and sincere feelings were an important reminder that they are always watching, listening, and observing their environment, and their uncomplicated approach to caring for the planet is straightforward and simple–we all must do our part. And growing food without chemicals while we nourish our bodies and build community is an easy way to make a positive difference.
So much gratitude for all the folks that sponsored the event, volunteered their time to help, and the student leaders that spoke bravely about their belief in the work taking place here. We look forward to welcoming more of our school family and community to the school farm sites, so please stay tuned for more opportunities to gather together, volunteer at workdays, and build our capacity for creating equitable food systems in our community.