A Message of Gratitude to Our Donors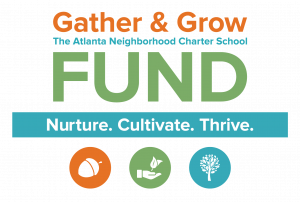 As we approach the end of our fiscal year, we want to take a moment to give a heartfelt thank you to all of the 2022-2021 Gather & Grow donors. From July through mid-May, 57 individual households have generously given $1,000 or more to the Gather & Grow Fund. Many of these donors are grandparents and special friends. If you see your grandparent or special friend on this list, please give them an extra special thank you for supporting our school!
As a charter school, we enjoy the privilege of making decisions about priorities we set for our campuses. These choices determine how much money we need to fund our operating budget. While we receive the majority of funding from state and local sources, we also depend on fundraising to provide the unique educational and social-emotional learning experience to our students. Here are a few of the many programs and initiatives that rely on donations to our Gather & Grow Annual Fund:
Two teachers in each classroom
Holiday assistance to families experiencing financial difficulties
Celebrations and tokens of support throughout the year for faculty & staff
Back-to-school supplies for all students
Farm-to-table culinary program
Curriculum and technology
Grounds maintenance
Related arts and athletics programming
Professional growth and development opportunities for teachers & staff
Summer reading books for all students
If you have not donated this year and are able to do so, we hope you will consider making a gift to support our efforts. The 2021-2022 Gather & Grow campaign ends Thursday, June 30th, 2022. To make a gift, please visit atlncs.org/donate or mail a check to: Atlanta Neighborhood Charter School, 688 Grant Street, Atlanta, GA 30315. Thank you for your continued support!