Annie Jr. Sunday Show Added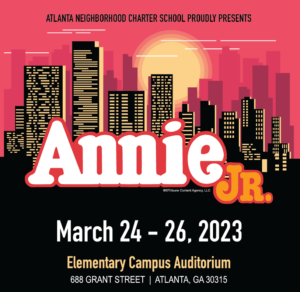 We were very pleased to have such an overwhelming response to our spring musical, Annie Jr. We have offered tickets to most of the entries on our waitlist and are continuing to reach out to those who signed up via the email entered on the form.
We have also added a third performance on Sunday, March 26th at 2pm. All remaining tickets for Friday and Saturday performances as well as the Sunday matinee will go on sale on Friday, March 17th at 6pm via https://atlncs.org/annie/.
Volunteers are still needed!  Sign up here.