Back to School on the Farm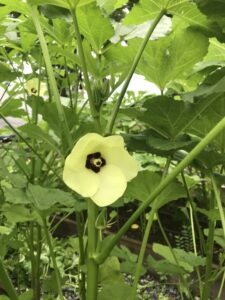 Hello, school farmily! While it's toasty warm and slightly buggy, it is oh-so-good to have our wonderful students back on the farm. Quite a few of them–along with more than a few of you!–joined me at our campus farm sites in June and July, and for that, I'm so grateful. But having classes of students and teachers working and learning together outside…well, there's nothing quite like it.
First up, let's introduce the newest members of our farm crew. Yes, you read that right…farm crew! Neighborhood Charter now has a full-time farmer on staff, as well as an Adjunct Faculty member at the Elementary Campus dedicated to farm work and education in the mornings each day. Farmer Jillian Crocker (she/they) comes to us with lots of experience growing produce, caring for farm animals, and managing projects on farms big and small. Maya Ferguson (she/her) has a background in ecology and farming, and she attended Neighborhood Charter for kindergarten through 8th grade. We will still be working closely with our farm friends Micole and Musa Hasan of Bread and Butter Farms for planning, technical support, and monthly check-ins.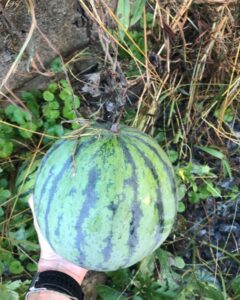 Next, let's celebrate the first few harvests of summer produce for our school nutrition program this school year! While we harvested quite a bit of squash and beans over summer break, that food was donated to the Loaves and Fishes program at St. John the Wonderworker and shared with farm volunteers; we are finally getting to use the fruits of summer on school menus. Students are enjoying fresh tomatoes, summer squash, sweet peppers, and watermelon. And coming in hot and plentiful is our much anticipated okra!
Finally, please keep an eye out for upcoming information about events on the farm, volunteer opportunities for adults, and farm workdays for families. As always, the Courier is where all of these dates and details will be shared, but if you have specific questions, concerns, or suggestions, please let me know. I can be reached via email at nlupo@atlncs.org, or feel free to text me at 404.771.0402. We are so grateful for all your enthusiasm and support of our Farm to School program here at Neighborhood Charter, and we're thrilled to be together and get to work on this land that's in our care.
---
Nichole Lupo
Nichole joined the ANCS faculty in the Fall of 2021 as the School Farm Specialist. Prior to coming to ANCS she worked at the Wylde Center as the Farm to School Manager, where she taught students in City Schools of Decatur in their garden classrooms, implemented two district-wide taste tests each year, and managed high school summer interns at farms, restaurants, and farmers markets around Decatur and Atlanta.