Bingo Night Needs Volunteers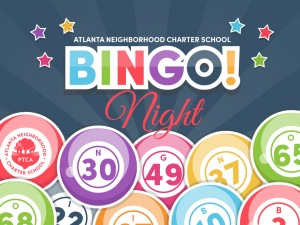 Bingo night is just around the corner – Friday, January 31st at the Elementary Campus. Doors will open at 6:00 pm and the first game will be at 6:30 pm. We will play as many rounds as we can til 8:30 pm. Great prizes for all ages too! This event is open to the entire school – both campuses.
We are in desperate need of volunteers! Please consider helping even of its just for a short while. Volunteers get first dibs on tickets – this event sells out every year so this is the best way to guarantee you aren't left out. Check the SignUp Genius below – after you sign up for your shift email Cathy McWhorter and let her know how many tickets you want reserved for you.
If you want to order pizza packages, you will have to do that on the ANCS PTCA Square site when tickets sales go live on Friday, January 17. We are pre-selling pizza dinner combos for the event on the ticket website – a large pizza and 4 drinks for $20. When you order please specify either cheese or pepperoni. There will be a very limited number of pizza slices available for sale the night of the event. All proceeds from pizza and concession stand sales will go to the fund for the eighth grade trip to Washington DC. At the event, we will be selling extra concessions and game tickets – these can be redeemed for extra bingo game cards (increase your odds of winning) or snacks and drinks. We will have a Square credit card reader at the extra ticket sales table, but to save time, cash is faster.
Questions? Marta Leo or Cathy McWhorter