Donate to Wonderball Raffle Baskets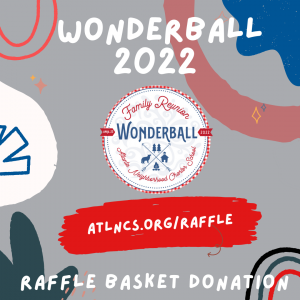 Save the date for a reimagined, outdoor Wonderball on Saturday, April 23rd from 6-10pm at the ANCS Middle Campus Backyard! Wonderball is our school's biggest fundraising annual event and proceeds directly support ANCS's general operating budget. This year's Wonderball theme is Family Reunion as we are looking forward to bringing the school family back together after several challenging years.
WONDERBALL RAFFLE BASKETS
For those of you who have not been to Wonderball, one of the highlights is the raffle "baskets" (it's actually a huge table full of great items). Parents from each grade donate money or goods and the basket chairs put together a collection of really AWESOME prizes (such as a golf cart and sporting event tickets). Guests at the event purchase raffle tickets and a few lucky winners walk away with some really cool stuff.
HOW CAN YOU HELP?
We need your help to make the baskets amazing! The themes for each basket have not been nailed down, so we don't not have a list of specific items quite yet. Currently we are only asking for monetary donations. But if you have access to something really cool (and brand new), please email us at raffle@atlncs.org. Please do not ask for donations from local businesses as the Wonderball committee solicits many businesses for the event as a whole. Donations can be made here.