Don't Miss the Registration Deadline for ANCS' First Kickball Tournament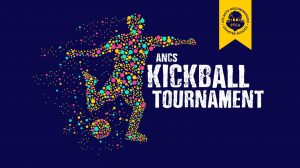 We are so excited for the Kickball Tournament on Sunday, September 15th, and based on your response, you all are too!
Here's what you need to know now:
Spots are limited, and absolutely no registrations can happen after the deadline of September 8th. 
You can register as an individual or a team.
If registering as a team, you'll need 10 players.
Every player must sign a waiver. It's available on the registration page.
Yes, you can have class teams. Or, sports teams. Or, family teams – go ahead and invite grandma and crazy cousin Lloyd!
There are no restrictions on adult to child ratio, but opposing teams could receive a scoring advantage if necessary. For instance, if we have a team that is mostly adults v. a team made up of kids, one of the teams will play with a scoring advantage.
We want all of our school family and friends to play. If you are a current ANCS family and money is tight, we have sponsorships available.
It's kickball. You know how it is played. But, closer to game day we'll send out the official rules and regulations to make sure everyone is one the same page.
We will have "real" referees, thanks to Atlanta Sport & Social Club, officiating the games. No arguing!
Concessions will be available on game day.
You are encouraged to bring you tent canopies, your coolers with water and snacks, your chairs, and set up a team and cheering area.
Can't play? Knee injury or traumatic kickball memory from second grade holding you back? You can volunteer! 
Our goals are to have fun, get to know our school community better and raise some funds that will benefit our teachers and students!
If your question wasn't answered here, email Cindy.