First Friday Fitness Yoga Dates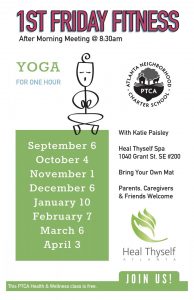 Join us for First Friday Fitness Yoga with ANCS mom and instructor, Katie Paisley. We'll meet right after morning meeting at Heal Thyself Spa (across from Eventide).
September 6
October 4
November 1
December 6
January 10
February 7
March 6
April 3
This PTCA Health & Wellness class is free. Parents, caregivers and friends welcome! Please bring your own mat.
Heal Thyself Spa 
1040 Grant St SE, Suite 200
Atlanta, GA 30315