Food, Farm and Culture Recap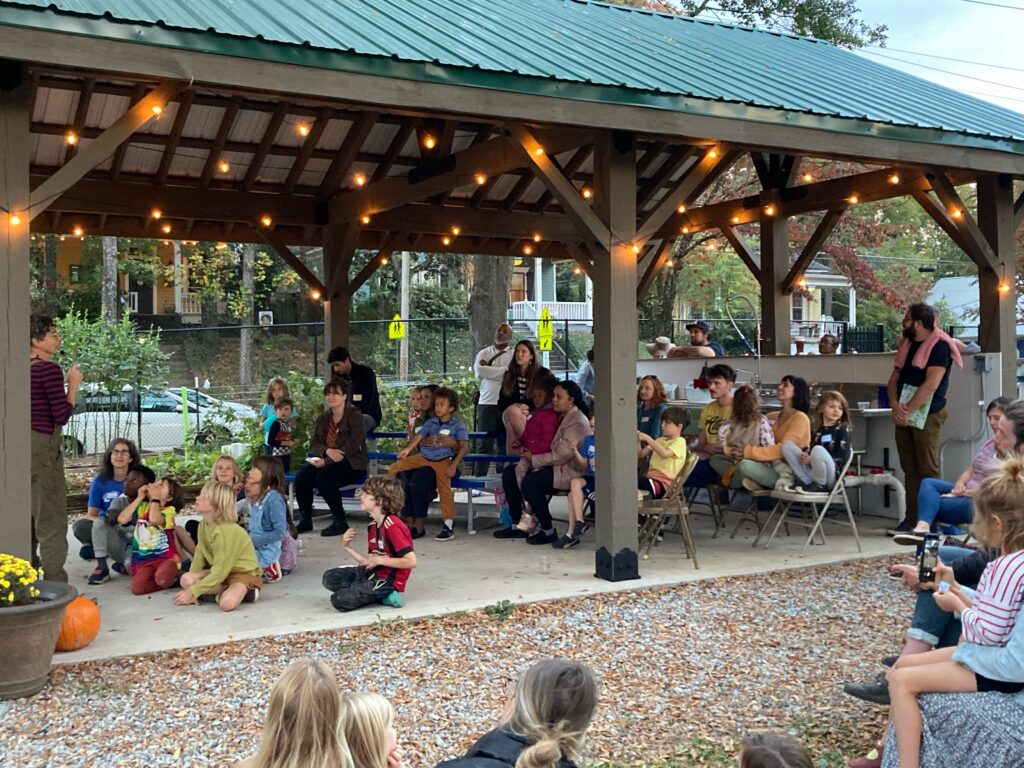 On the evening of Tuesday, Oct. 25, the elementary campus farm hosted our second Food, Farm and Culture night, complete with gorgeous fall weather, a lovely sunset, and twinkling lights. The event was sponsored by the Diversity Equity Action Team (DEAT), a committee of the PTCA. Families gathered in and around the farm classroom to enjoy food and drink from our outstanding school nutrition team, and to hear from members of DEAT, teachers, staff, and students. Chef Bradley and Chef Lupo were there to share hibiscus punch, muscadine bars made with muscadines from the middle campus farm, and a green tomato carrot salad with mixed seeds and feta, featuring green tomatoes and carrots from both farm sites. Several wonderful books were raffled off, including Harlem Grown by Tony Hillery and The Color of Food: Stories of Race and Resilience in Farming by Natasha Bowens.
Our elementary campus counselor and DEAT leader Leslie Jo Tottenham greeted guests and shared some shared norms and agreements for having challenging conversations in a safe, inclusive way. School governing board member and DEAT leader Carla Wells shared the history and mission of DEAT here at our school, and encouraged all of us to stay curious and get involved. Dr. Cassie Leymarie, one of our two new DEI Co-Directors, was present to meet families that night; she also offered valuable support during planning for the event.
Chef Bradley spoke of the many ways we use food throughout the school day to celebrate culture, honor the varied heritage of our school family, and nourish students with high quality ingredients grown on both campuses. First grade teacher Chris Kellum highlighted the impact made on students and teachers by making "the invisible visible", the vital steps between growing and eating food brought to life in a hands-on way by farming at school. She also shared the personal journey that working in nature has provided, that of honoring and celebrating the brilliance and resilience of her ancestors. School Farm Specialist Nichole Lupo offered several ways that farming at school can positively impact students as eaters, learners, and environmental stewards, focusing on the stories we tell, the crops we select, and the methods we employ to grow food.
It's safe to assume, though, that the highlight of the evening was hearing directly from students about their experiences growing and eating food at Neighborhood Charter. Kids from Kindergarten through sixth grade spoke about flavor, nutrition, their physical health and that of the planet as reasons to continue growing plants and caring for these plots of land that do not belong to us, but that we are responsible for just the same. With them engaged, curious, and excited about Mother Nature and all her bounty, the future is bright for all of us! Please save the date for our next event on Tuesday, April 18 from 6-7:30pm.