GratitudeWeek is in full swing. Today we recognize the parents and caregivers. We are grateful for: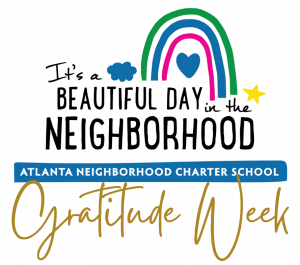 Seeing you holding hands and walking your children to school or saying special wishes from the car as they start their day
Being patient as we pivoted to virtual learning and adjusted COVID precautions based on public health guidance in our area
Checking red folders every night, helping with homework, and being responsive to teacher requests
Volunteering for the school and with the PTCA as partners in planning a fun events, providing financial support, and building a stronger neighborhood community
Sharing your bright, funny, and kind children with us.
As a small gesture of appreciation, please pick up a new Neighborhood Charter sticker at the front desk this week. We hope you will display it with pride on your water bottle, laptop, or car.
We know some days are messy and don't go as planned but you are doing awesome as caregivers. Thank you!
If you want to see our gratitude videos for teachers and staff and students, please visit our Facebook or Instagram pages.