Join us for Bingo Night on January 31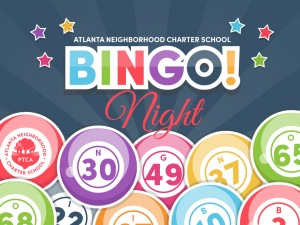 Bingo Night is just 2 weeks away – Friday, January 31 at the Elementary Campus. Doors will open at 6:00 pm and the first game will be at 6:30 pm. We will play as many rounds as we can until 8:00 pm. Tickets can be purchased in advance to ensure a seat; sales will close in the afternoon of Thursday, January 30.
We are pre-selling pizza dinner combos for the event on the ticket website – a large pizza and 4 drinks for $20. When you order please specify either cheese or pepperoni. All proceeds from pizza and concession stand sales will go to the fund for the Fifth grade trip to Blue Ridge. At the event, we will be selling extra concessions and game tickets – these can be redeemed for extra bingo game cards (increase your odds of winning) or snacks and drinks. We will have a Square credit card reader at the extra ticket sales table, but to save time you may want to bring cash.
We still need volunteers for the event. We can't put on this event without your help! Sign up below for volunteer opportunities.
Questions? Marta Leo or Cathy McWhorter