New Portal for Meal Payments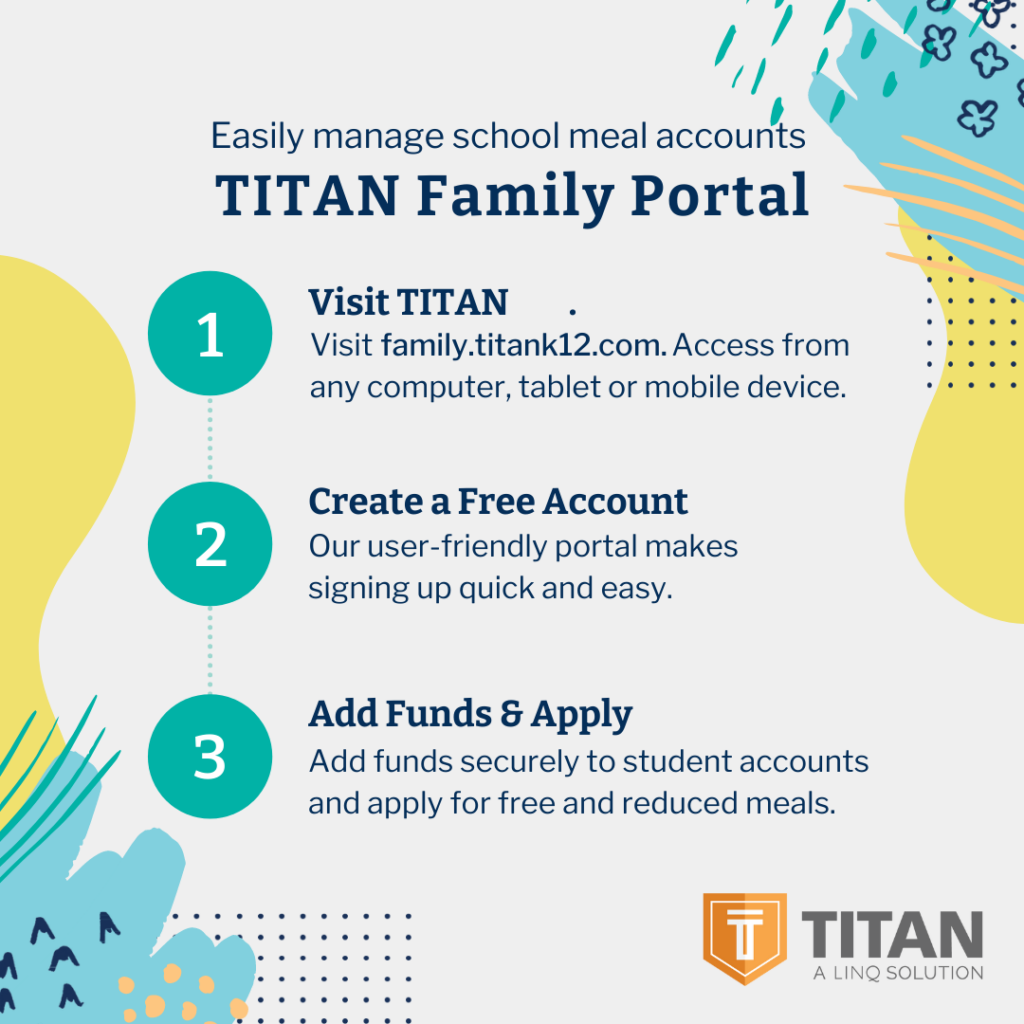 We are pleased to announce a new resource for parents to access their students' meal accounts.  
This school year we are using TITAN, a new software system for tracking meals and payments for meals at Neighborhood Charter. While we've been using the software internally since the start of the school year, a very useful part of this system that has just gone live is the TITAN parent portal. This is where you can track transactions since the start of the school year, add funds by credit or debit card, transfer funds between siblings, and set up low balance reminders or auto drafts from your checking account to avoid having to think about these details if that is your preference.  You'll first need to create an account on the site, then link your students. The system name is "Atlanta Neighborhood Charter School" and you'll need your student's last name and date of birth. Here is an FAQ on how to do this and more prepared by TITAN.
CLICK HERE TO PAY FOR SCHOOL MEALS
Please note that with each transaction where you deposit money by credit or debit card, TITAN will charge a $2.60 processing fee. This revenue does not come to ANCS. So while you may add as little as $10 each time you use the TITAN parent portal, it may be to your advantage to put larger sums on your child's meal account. We are happy to provide a refund for unused funds, or they can roll over to the next school year if your student is returning to ANCS. Funds may also be transferred from one student to another with ease in the TITAN parent portal.
If you've been adding funds to your students meal accounts via the school's Square site, we have been adding this to your student's meal accounts and it should show on their history in the TITAN parent portal. This link to the Square payment site specifically for ANCS meals is no longer active.
We also accept payment by cash or check. If you send in either for your students' meals, please indicate both their full name and that it should be applied to their meal account so that it is not directed to aftercare, school supplies, or other accounts at ANCS.
If you wish to apply for free or reduced price meals, we accept applications throughout the school year. The easiest way to do this is via the Atlanta Public Schools online free and reduced application. If you prefer a paper copy, please email Chef Bradley with your request and we'll get this to you.
We will continue to use the weekly pre-order forms for meals, as well. This weekly form helps us to manage allergies & dietary restrictions and to minimize food waste in both ordering and preparation. The pre-order is available weekly on the school website or each week in the Courier.  Please submit by Friday at noon for the following week, or select that your response should be treated as your student's permanent order and we'll take care of the rest for the whole school year!
Thank you for supporting ANCS Nutrition. This institution is an equal opportunity provider.