Next Week is Inclusive Schools Week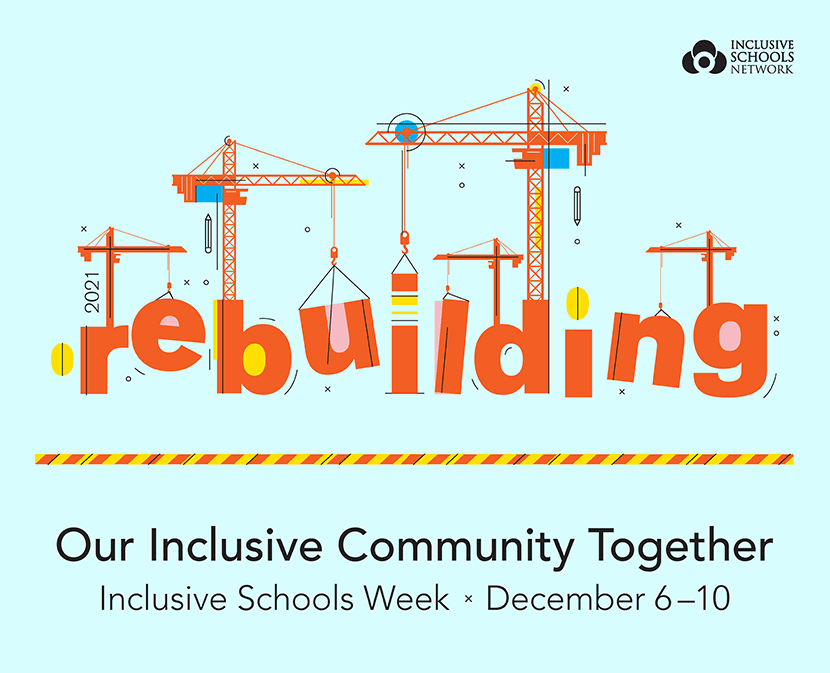 What is Inclusive Schools Week?
Inclusive Schools Week is an annual international event celebrated the first week in December. It's a time designated to acknowledge the hard work and commitment of teachers, administrators, students, and parents in making their schools more inclusive and, thereby, significantly contributing to the development of a more inclusive society.
The Week offers a significant opportunity for educators, students and parents to engage in dialogue about inclusive education and to plan for the future. It is a time when schools and communities can begin or continue the journey toward providing a quality education to all children regardless of differences in ability, gender, ethnicity, language and health status.
Since the inaugural celebration in 2001, Inclusive Schools Week has been celebrated by tens of thousands of students, families, and educators in schools and communities in every state in the
United States as well as communities across the globe. The Week is proudly sponsored by the
Inclusive Schools Network and Stetson & Associates, Inc.
What are the goals of Inclusive Schools Week?
Celebrate the progress of schools in educating an increasingly diverse student population
Acknowledge the hard work and commitment of schools, families and communities in creating inclusive opportunities for all children regardless of disability, gender, ethnicity, language, health status, etc.
Encourage reflection on how culture, policies and practices in schools can promote inclusive education
Promote action to increase the capacity of schools and communities to meet the needs of all learners.
Why is Inclusive Schools Week important?
Inclusive Schools Week advances an international dialogue on the importance of building inclusive
schools and communities, where all students have full access to educational opportunities.
Celebrating is important because it creates an awareness of the benefits and challenges inclusive
schools face. It brings the school community together in good spirit for a common purpose. It provides us a pause in our busy lives to reflect on where we are and where we are going. But celebrating is only the beginning. Reflection, planning and action are the elements necessary to understand the potential of inclusive education and realize its promise.
How is ANCS celebrating Inclusive Schools Week?
We have a lot planned to optimize learning about how we can be a caring and inclusive school family. One of the fun things we do throughout the week is have a daily theme for dressing up. We hope your child will participate in this and all the other activities we have planned. Here are the themes for next week.
Monday: Be comfortable, be you! –

 

It's easier to be our best selves when we are comfortable. Be you! And dress in your comfiest clothes.
Tuesday: Hats off for Inclusion! –

 

Hat day! Wear a hat you love in honor of tipping our hats to inclusion at ANCS.
Wednesday: Blue for Belonging! –

 

Wear blue or your ANCS t-shirt because you BELONG to a school family!
Thursday: Heroes for Inclusion! –

 

Who are your heroes that fight for what's right? Dress up as a superhero, in camo, or whatever feels heroic to you!

 

*no face/eye coverings (other than your COVID mask)
Friday: Be Unique! –

 

Nobody else can be you, except you! Let's embrace our differences. Wear mismatched or unique clothing.