Proposed 2020-2021 Calendar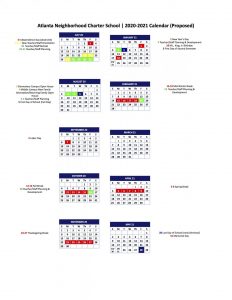 The proposed 2020-2021 calendar would shift us back to our week-long fall and mid-winter breaks. We will spend the next few weeks reviewing and discussing this draft, and the ANCS Governing Board will vote on it at its December meeting.
This proposal is based partly on observations leading up to and shortly after our fall break in October of this year. Unexcused absences and tardies were high school-wide both the day before and the days following that shortened break. Our K-8 leadership team offers this as the best framework for academic achievement and student performance in the 2020-2021 academic year. About half of the public charter entities in the Atlanta Public School system scheduled 4-5 day fall and mid-winter breaks this year.
Your feedback is welcome. Please email Chuck Meadows, our executive director.