PTCA Fall Grant Recipients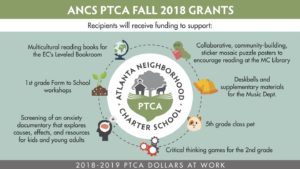 The PTCA is excited to announce the Fall 2018 Grant recipients!
Multicultural reading books for the EC's Leveled Book room
Desk bells and supplementary materials for the Music Dept.
Collaborative, community-building, sticker mosaic puzzle posters to encourage reading at the MC Library
Critical thinking games for the 2nd grade
1st grade Farm to School workshops
Screening of an anxiety documentary that explores causes, effects, and resources for kids and young adults
5th grade class pet
Thank you to everyone who has supported the PTCA thus far, either by becoming a PTCA member or participating in our events. Just a reminder that your support makes this possible.