PTCA Grant Deadline is Friday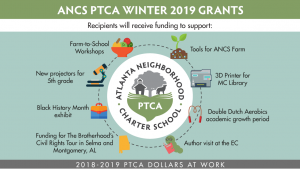 One of the initiatives the ANCS PTCA is proudest of is our Grant Program. Thanks to financial support from our members and event sponsors, PTCA is able to fund programs, activities, and materials that enhance students' experiences at the school and help supplement teacher and classroom resources. We encourage all members of the community to apply for grants.
The deadline to apply is midnight this Friday, September 13th.